Today, I quickly discovered that you could spend an entire week in Yellowstone and not see everything. This park is humungous. It's so big that I drove about a third of it, and still spent 5 hours in the park.
It covers so much space that the weather is different throughout the park. We entered through the West Entrance — in aptly named West Yellowstone — and the weather was sunny (if smoky from the fire*) and 86F.
When we got to Lake Yellowstone, it was overcast and chilly at 65F.
At the line between Yellowstone and Grand Teton to the south, we were back up into the 70s with big fluffy white clouds.
Like we ran into in Glacier, dogs are only allowed on the maintained roads. In Yellowstone, they specify that means no more than 100 feet from any road.
Yellowstone is packed full of people. I missed a few of my Must Sees (Painterpots and Black Dragon were two that really bummed me out) because the line of cars waiting for spaces to park stretched out to the Grand Loop.
The Grand Loop is actually a couple of loops, as you can see in the map from YNP's site.
Today, I only got through this:
Yellowstone is full of vast meadows and prairies, and it's ringed by mountains. Every few meters you'll come across something you want to stop and explore. It's pretty intense. And exhausting. I'm exhausted!
This slideshow requires JavaScript.
Water features galore!
Some of the stops are lined with wooden bridges that are so old you worry they might be unstable. I think they pre-date the Grand Loop in its current, highway-esque incarnation.
This slideshow requires JavaScript.
I departed Yellowstone for my AirBnB tonight in Driggs, ID, through Grand Teton. It's just as beautiful, if a bit quieter than Yellowstone.
I even came across a wedding party getting pictures taken at the Snake River Overlook. I didn't want to pry, so I didn't take any photos. But how cool is it to get wedding photos done in a national park?
To get to Idaho, I had to go through the Teton Pass. I was on the phone with my dad when I turned onto it, and I was saying to him, "I mean, it's pretty, but I don't know why everyone goes gaga over the Teton Pass," when I reached the peak of a hill, and suddenly understood.
It's way too dangerous of a road to be taking photos on, so I've stolen a couple from the internet for you guys.
photo credit: Ken Lund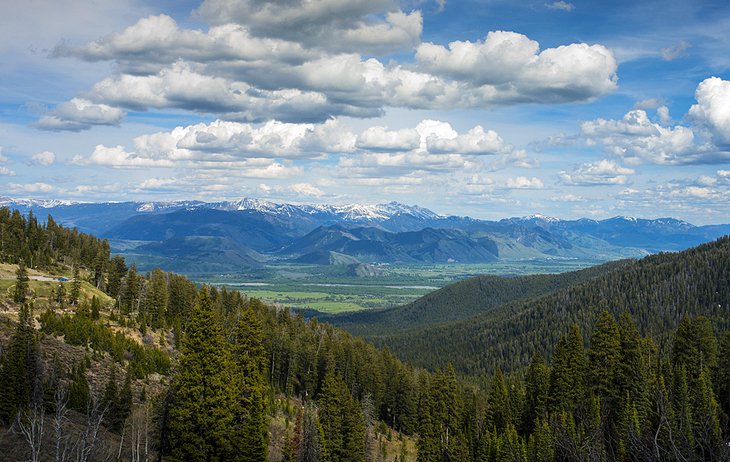 photo credit: Planet Ware
And trails line the pass, wandering up hills that look like this.
photo credit: Wanderlust Out West 
Tonight, I'm staying at an AirBnB at a drive-in movie theater called The Spud.
I was going to go, but, as I mentioned above, I'm exhausted. If I did, I'd probably wind up sleeping in my car for the night.
So instead of treats from the concessions stand, my dinner is the last of my stash of Flathead cherries.
These things are worth their weight in gold, I swear.
High
I drove through Yellowstone today!
Low
Missing Old Faithful, Black Dragon Cauldron, and Artists' Paintpots. But I think I can squeeze Old Faithful in tomorrow.
Breakdown
Driven: 4456mi
Hiked: 44mi
Written: 4k
Listening to: "Want Ads" Honey Cone
*A lightning strike started the fire on July 20th. It's still burning as of tonight, but isn't threatening any of the roads through the park.